Savvy homeowners recognize an outstanding approach to selling, and they find it with Shannon and Dafna's proven listing-marketing program. When choosing a listing broker, compare everything; know where your valuable commission dollars are going!
Six Reasons to Sell Your Home With Shannon and Dafna's 1% Listing Fee Program*
Sell with a Custom Marketing Plan: The true essence of your property is captured and conveyed to the market to find the right buyer. Accurate Pricing, Professional Photography, a Professional Staging Consultation, Syndication to the MLS and ALL of the Very Best Websites and a Stunning Virtual Tour put the home in its best light.
Receive Premier Exposure: Your listing is placed on the MLS and seen virtually everywhere with The Cascade Team's syndication to the very best, most effective websites. Buyers also learn about your listing via the gorgeous Virtual Tour being linked to public websites (from participating sites), Color Flyers, Open Houses, Targeted Print Advertising, Social Media (Facebook, Twitter, You Tube Channel) and more!
Enjoy Responsive & Timely Communication from Shannon and Dafna to you, the seller, to inquiring buyers and to brokers who have shown your property to buyers.
Relax as the listing, marketing, contract details & closing process are taken care of for you from start to finish.
Negotiate price, terms and inspection with experienced real estate professionals–Shannon and Dafna close dozens of transactions per year and know how to get their clients the best possible contract terms.
Save Thousands with The Cascade Team's 1% Listing Fee!
Call Shannon or Dafna Today! They would be very happy to meet with you in person to discuss your real estate goals and to conduct a no-obligation market analysis.
You are encouraged to interview several real estate brokers in your search for the right fit.  Effective interview questions include: 1) How many homes have you sold in the past 6 months?  2) Can you email me a link to your sold listings? (this gives you an opportunity to assess the level of quality of the presentation of the listings and the price points of those listings) 3) How much commission do you charge?  4) What services do you provide within the scope of that commission?  5) What is the process for cancelling a listing? (Hint: if a real estate broker tries to hold you hostage in a contract to keep the home listed…..Run!) 6) May I call/email some of your past clients?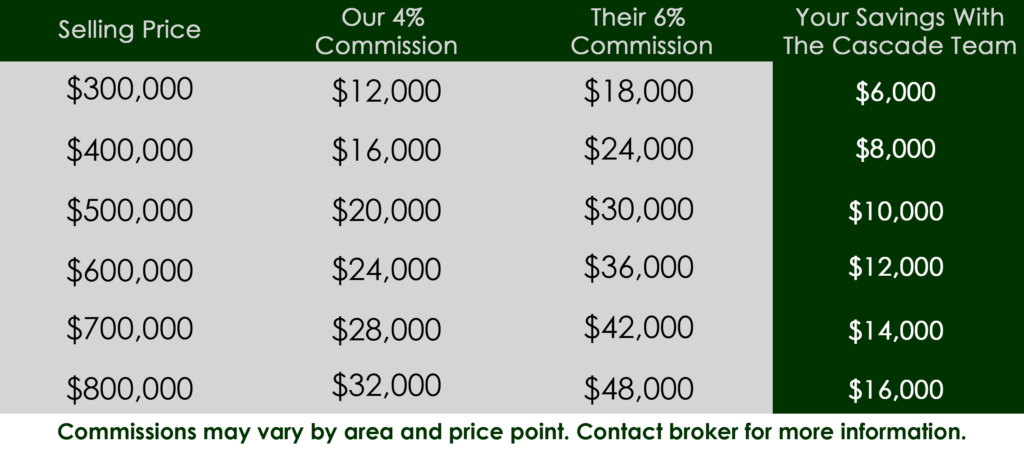 *1% Listing Fee is for non-short sale listings. 1% Listing Fee is The Cascade Team's fee. Seller also pays 3% to the buyer's broker for a 4% total commission cost (see chart above).  There is a minimum listing fee, please ask us for more details.